lazyme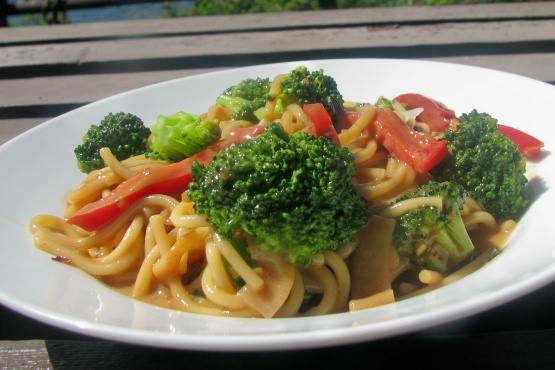 Delicious light sesame peanut noodles from Martha Stewart (Don't let this put you off, it is so easy and good you will want to try it). Though the recipe says serve room temperature or cold, we thoroughly enjoyed it hot.
In a large pot of boiling salted water, cook spaghetti 3 minutes less than al dente. Add broccoli, bell peppers, and onion. Cook until pasta is al dente and vegetables are tender, 3 minutes more. Reserve 1/2 cup pasta water; drain pasta and vegetables.
Meanwhile, in a large bowl, whisk together peanut butter, sugar, vinegar, soy sauce, oil, garlic, and red-pepper flakes. Add hot pasta and vegetables; toss to coat, thinning sauce with a little pasta water, if necessary. Serve at room temperature or chilled.