Rita1652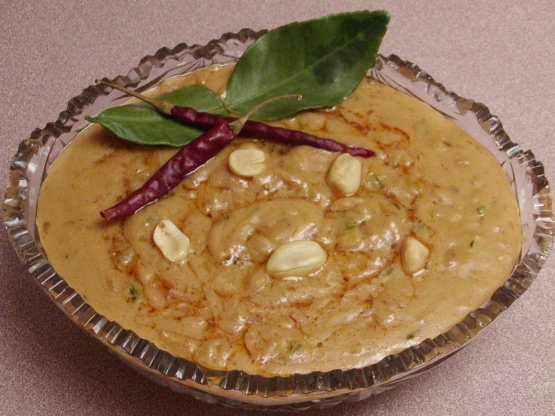 This is a wonderful, easy thai recipe I received when I did a Thai cooking course. Be warned - it is hot but it is truly wonderful. You would never go back to bought satay sauce again. What's more it freezes well so make a big batch!!

Good sauce. Really liked the addition of the spring onion, which I don't normally use in satay sauce. Added a splash of soy sauce & used yellow curry paste as that was all I had & it was nice!! Served with chicken kebabs, stir-fried vege & rice. Thanks!
Heat the oil and carefully fry the dried chilli flakes on low heat.
Add the spring onion, red curry paste and lime leaves and cook until fragrant.
Stir in 1 cup of coconut milk, the peanut butter and sugar.
Bring to the boil, stirring, and add the lime juice.
Thin to desired consistency with remaining coconut milk.