Sara 76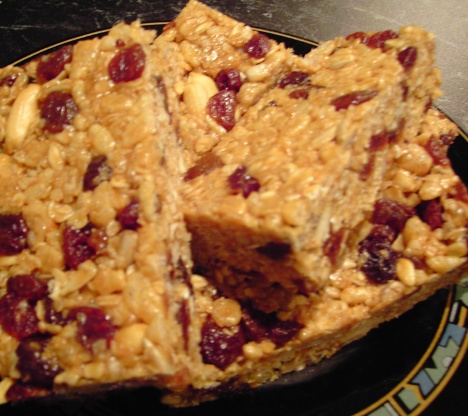 From Eating Well magazine. I haven't tried it yet but am looking forward to it!

I have made this several* times now, and make substitutions with on hand items (nuts, flax, pumpkin seeds, dried fruits & berries, etc.). Very easy to go organic or 'raw' with this recipe (I used puffed millet instead of 'rice' cereal). I added a few Tablespoons of molasses to give it more 'glue.' I always keep it in 'granola' form & take a cupful to eat on my way to work. A great healthy, flexible recipe.
Coat a 9x13 inch baking pan with cooking spray.
Combine peanuts, sunflower seeds (or other nuts), raisins (or other dried fruit), oats, rice cereal and wheat germ or flax seed meal (if using) in a large bowl.
Combine peanut butter, brown sugar and honey in a large microwaveable bowl and microwave on high or boil on stove top until bubbling (1 to 2 minutes).
Add vanilla and stir until blended.
Pour the peanut butter mixture over the dry ingredients and stir until covered.
Transfer mixture to the prepared pan. Press down firmly (It helps to coat your fingers with cooking spray). Let stand for about 1 hour to harden.
Cut into bars.