Bayhill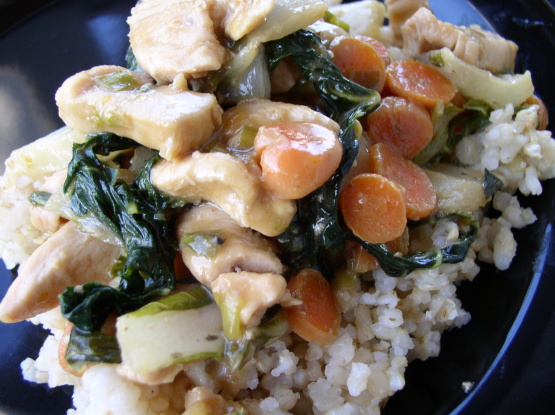 Another great time-saving meal. If you can't find bok choy, savoy cabbage has a similar mild flavor and can be used instead.
Delicious! We loved the subtle, sweet peanut butter sauce in this dish. It really complimented the slight bitterness of the bok choy. I love that it went together very quickly allowing me to get dinner on the table in a hurry. **Made for Culinary Quest 2016 - Thailand for the Pi Rho Maniacs**
Combine peanut butter, preserves, teriyaki sauce and water; reserve. In nonstick skillet, heat oil over medium heat.
Add chicken; cook, turning once, until browned. Sprinkle with garlic, salt and pepper flakes. Add bok choy, carrots and scallions; cook until softened. Add peanut mixture; cook, until thickened, about 5 minutes, and chicken is cooked through.
Serve over rice.