Prep 10 mins
Cook 20 mins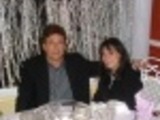 Another great time-saving meal. If you can't find bok choy, savoy cabbage has a similar mild flavor and can be used instead.
Directions
Combine peanut butter, preserves, teriyaki sauce and water; reserve. In nonstick skillet, heat oil over medium heat.
Add chicken; cook, turning once, until browned. Sprinkle with garlic, salt and pepper flakes. Add bok choy, carrots and scallions; cook until softened. Add peanut mixture; cook, until thickened, about 5 minutes, and chicken is cooked through.
Serve over rice.
Most Helpful
Delicious! We loved the subtle, sweet peanut butter sauce in this dish. It really complimented the slight bitterness of the bok choy. I love that it went together very quickly allowing me to get dinner on the table in a hurry. **Made for Culinary Quest 2016 - Thailand for the Pi Rho Maniacs**
This was a really simple to prepare yummy quick dish! I used chicken tenders, as that's what I had on hand. I'm sorry we were in a rush to eat and didn't get a picture, tho I'm sure I'll be making this again! Thanks JackieOhNo, for an easy weeknight dinner!

Excellent flavors and very easy to make. I was searching for a recipe using chicken breast and bok choy, and came across this one. Since I had all the ingredients on hand (rare for me!), I knew I had to give it a try, and was glad I did. The sauce ingredients work very well together. My daughter told me it tasted like a restaurant meal. I highly recommend this one!