xamandax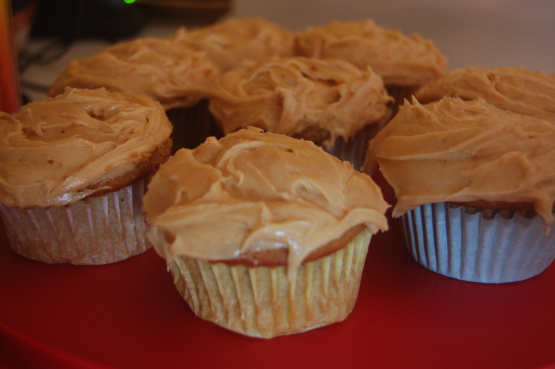 This is a yummy recipe. You can follow the frosting recipe or of course buy any kind you choose 8)

These are the moistest cupcakes I've ever had and they are very simple and quick to make. However I would suggest lowing the oven temperature quite a bit - i did and the top still baked before the middle. My grandma and mother loved them aswell as they are not overly sweet - I think next time i'll have to double the batch.
Beat all ingredients in large bowl, electric mixer is best.
Beat until thick enough to spread.
It usually takes approximately 10 minutes.
Heat oven to 375°F.
Grease cupcake tins, or line with paper cups.
Sift together flour, salt, and baking powder.
Cream the butter and peanut butter until soft and fluffy.
Add vanilla extract, then beat in the egg.
Cream the sugar into mixture, a little at a time.
Blend until smooth and light.
Add approximately one third of flour mixture.
Stir blending well.
Add in half of milk, another 3rd of the flour, the rest of milk, and then flour.
Beat well as adding.
Spoon the batter into the tins/cups.
Bake approximately 20 minutes.
Let cool well before frosting!