Peanut Buttery Banana Bowl!
DuChick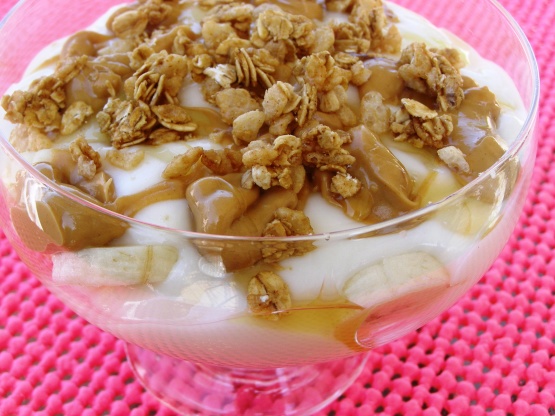 I made this up 5 minutes ago. A great breakfast of yogurt, bananas, and Peanut butter. My favorite! Also good as a snack if you omit the bananas.

You are a genius Granolahead! So simple, so yummy and so good for you, me and all of us! I used a whole small banana, fat-free vanilla yogurt and reduced fat chunky peanut butter...the kind choosy mothers choose. What a great afternoon treat or breakfast. One I will make often since I always have these things in my kitchen. Thanks a million! You were adopted during PAC Fall '08.
Slice the banana into the bottom of a bowl.
Cover with yogurt.
Microwave the peanut butter about 30 seconds until warm and a runny consistency.
Drizzle the peanut butter over the yogurt.
Top with honey till sweet enough.
Add granola if desired.