CJAY8248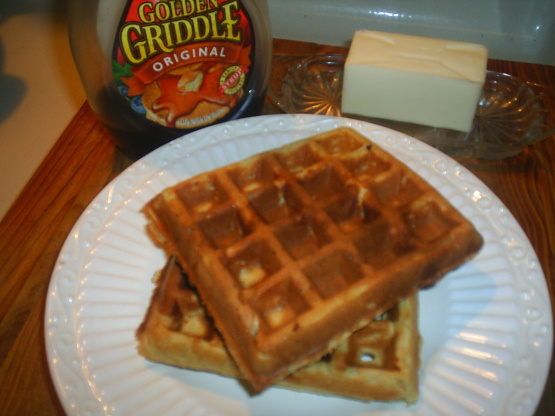 Found in my TOH Simple & Delicious magazine and fell in love immediately. I served with warmed mixed jelly - that way it was more syrupy than jellied. It is great with just some butter spread on it and fresh fruit too. Hope you like them too. I have put the serving as 2 waffles so this creates 5 servings (10 waffles total)
In a large bowl, combine the flour, sugar, baking powder, baking soda and cinnamon.
In another bowl, separate egg yolks into bowl (keep egg whites in another small bowl). Whisk egg yolks, milk, peanut butter and butter.
Stir egg yolk mixture into dry ingredients just until moistened.
In the small bowl with the egg whites, beat the egg whites until stiff peaks form. Fold the egg whites into the batter.
Bake waffles in a preheated waffle iron that has been sprayed lightly with cooking spray. Use the temperature setting to get the end results you prefer in your waffles - we like ours just golden brown but hubby likes his a bit more cooked so it is crispier.
Serve with heated jelly (so it is more like a syrup), or use a fruit flavored syrup, or just serve with fresh fruit and yogurt.