Marlene.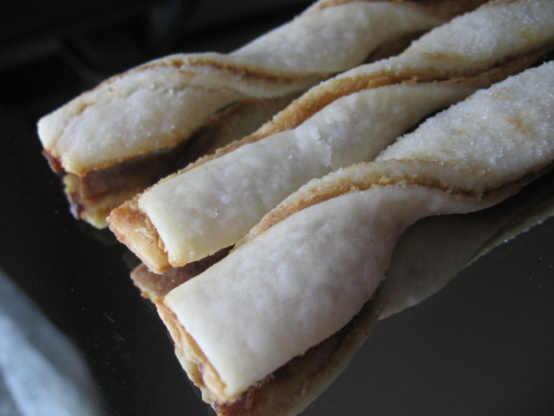 I have had this in my "to try" file for awhile. It sounds really yummy and easy

Flavor wise it was great. The pastry dough has a light sweet taste showcasing the peanut butter and apple butter filling. I imagine it would be good with other fruit jelly or nutella as well.

It could just be my inexperience (and maybe the butter substitution for shortening) but that dough stuck to everything. I would recommend putting it in the refrigerator for a little bit and flour everything. When twisting make sure it will look nice when lying flat as the dough will soften in the oven.

Based on the Marlene's review, I went straight for the parchment paper and it solved that problem.
1. In a small mixing bowl, sift the flour with sugar and salt. Add shortening, cream cheese and milk. Mix on lowest speed of an electric mixer until dough begins to form well. Shape into a ball. 2. Roll out on floured surface to a 20 x 8 inch rectangle. Cut in half to make two 10 x 8-inch rectangles. 3. Spread one half with peanut butter (try crunchy peanut butter if you wish); top with the apple butter. Place the second half of dough on top of first. Brush with milk and sprinkle with a little bit of granulated sugar. 4. Cut into strips 5 x 1/2 inches. Gently twist twice. Place on well-greased cookie sheets and bake in preheated 400-degree oven for 7-10 minutes or until light golden brown. Do not overbake. Serve warm or at room temperature. Makes 30 twists.