Katzen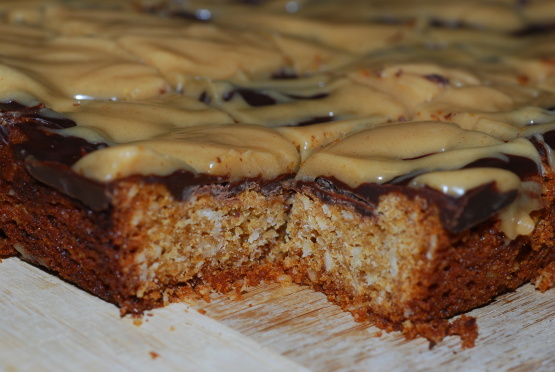 This is another gem from my grandmother. When I was a kid I used to eat these things like crazy. They are the perfect cure for a peanut butter and chocolate craving. It is a fairly unique recipe and everyone who has ever tried it loves it.

Top Review by Katzen
These are super easy to make and excellent! The only caution I have is that if you're planning to take them somewhere, be aware that the peanut butter drizzle doesn't harden like the chocolate does, so they shouldn't be stacked. I think maybe next time I'll use a combo of chocolate and peanut butter chips instead, so it will harden. This is definately a keeper - thanks for sharing it!! Made for I Recommend Tag.
Preheat oven to 350°F and pre-grease a 9x13 inches baking pan.
In a large bowl cream the butter, granulated sugar and brown sugar.
Blend in the egg, 1/3 cup of peanut butter, baking soda, salt and vanilla.
Slowly add the flour and rolled oats.
Spread evenly in a 9x13 inches baking pan and bake at 350°F for 20-25 minutes.
Immediately sprinkle 1 cup of chocolate chips evenly on the top and let sit for 5 minutes then spread evenly over the surface with a rubber spatula.
Make the topping by combining the confectioners sugar, and peanut butter and slowly add the milk and mix well until you find the right consistency to drizzle on top.
Drizzle the topping on top of the chocolate in whatever design you wish. I usually make 3 long stripes down the pan, 2 on the edges and one in the middle, then using a toothpick or the edge of a knife make alternating streaks up and down the pan.
Allow to cool and cut in squares for 12 large servings or rectangles for 24 servings.