Peanut Butter Silk Pie II
chia2160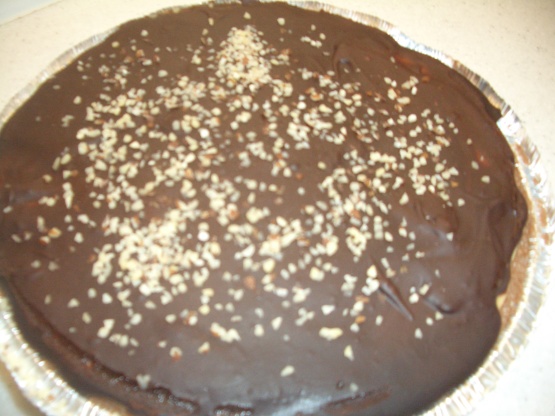 I do not remember where I got this recipe. I cut it out because I love peanut butter. I really love this pie! Cooking time is chill time. It is different from the other Peanut Butter Silk Pie posted. Hope you enjoy!!!

liked. wanted to love but it was a bit too rich for me. got rave reviews from others who ate it for thanksgiving 2013. may try to use half of the cream cheese next time or no fat or sub with cool whip. also will try to make a homemade cookie crust that is at least twice as thick. thank you for something yummy and different!! :)
Filling.
Beat cream cheese, sugar, peanut butter, butter and vanilla in a large bowl until creamy.
Gently fold in half the beaten heavy cream, then fold in remaining cream until blended.
Spread this mixture onto the crust, smoothing the top.
Topping.
Combine chocolate chips and coffee in a microwave proof dish.
Cover with plastic wrap and microwave on high 1 1/2 to 2 minutes.
Stir until smooth.
Cool slightly.
Pour the topping over top of the filling.
Refrigerate the pie at least 1 hour till firm, then cover loosely and refrigerate over night.
Sprinkle with chopped peanuts.