Peanut Butter Sesame Noodles
flower7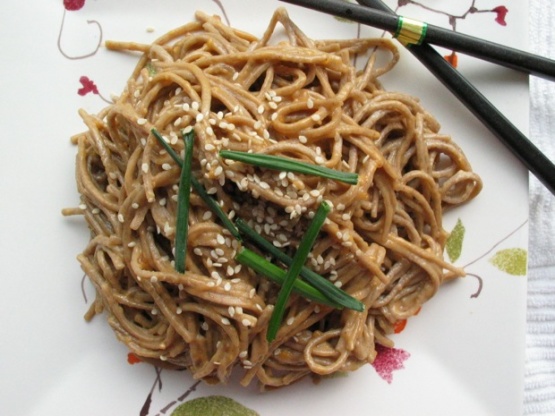 I highly recommend using a natural peanut butter for this recipe. You'll get a richer, more peanuty flavor without the extra sweetener. This is great for a dinner-for-two and you'll have leftovers for lunch the next day!

I like these for lunch or as power food when I'm hiking. I use natural peanut butter, make the sauce a bit more liquid-y by adding a bit of water, and add steamed veggies (and sometimes tofu or tempeh). Agree with other reviewers that these do NOT need additional salt. I actually think the 1 tsp salt called for in the recipe would make them inedible.
Mix the first 8 ingredients together in a nonreactive bowl and set aside.
Cook your noodles in a large pot of boiling water, following the directions on the package (probably for 3-5 minutes). Drain and rinse well with cold water. Return to pot and mix noodles with 2 tablespoons sesame oil.
If you want to eat your noodles cold, let them cool in the oil before mixing the peanut sauce with them. This will help the flavors stay bright. If you're eating them right away, mix the peanut sauce in right away and enjoy. Sprinkle sesame seeds on individual portions for extra flavor and crunch.