Peanut Butter Sandwich Cookies
Nif_H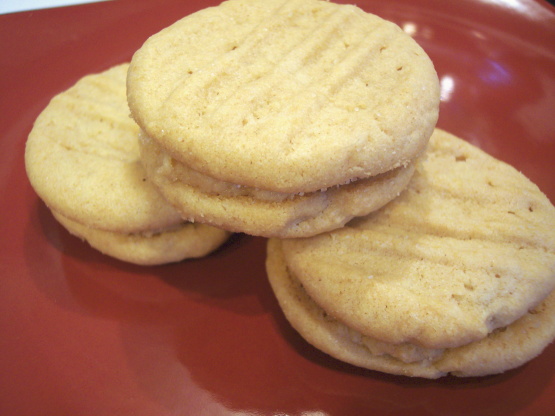 The recipe for these tasty treats was found in Debbie Macomber's Cedar Cove Cookbook, 2009. Preparation time does not inclue the time needed for the cookies to cool.

I am going to rate this 5 stars because I didn't care for the filling but I didn't follow the recipe. I used cream cheese, butter, p-nut butter and powdered sugar but I tripled the recipe by eyeballing the amounts but didn't care for the cream cheese taste. I have used just butter, p-nut butter, vanilla and powdered sugar before for frosting and liked that much better. Having said all that, the cookies were great! I subbed dark brown sugar for the brown sugar. Will make again maybe with a strawberry or grape filling.
Preheat oven to 350 degrees F & line 2 baking sheets with parchment paper for even browning & to guard against burning.
FOR THE COOKIE DOUGH ~ In a medium bowl, whisk together the flour, baking soda & salt.
In a large bowl, & with an electric mixer at high speed, beat butter, peanut butter & both sugars until light & fluffy.
Beat in eggs & vanilla, then gently fold in the flour mixture until just incorporated.
Roll a rounded tablespoon of dough between your hands to make a ball, then place it on the prepared baking sheets. Repeat until cookie dough is all used up.
Dip a fork in some additional granulated sugar & press each dough ball to make a crisscross pattern.
Bake for 14 minutes or until lightly brown around the edges.
Set the baking sheets on wire racks & cool 5 minutes before transferring cookies directly onto the wire racks to cool completely.
FOR THE FILLING ~ In a medium bowl beat all filling ingredients together until creamy.
Spread 1 tablespoon of the filling onto the flat side of 1 cookie & press the flat side of a 2nd cookie onto the filling, creating a cookie sandwich. Repeat until sandwich cookies are completed!