Swirling F.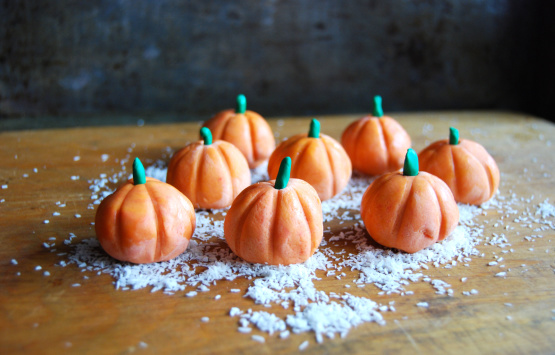 Be a nut and putter your bumpkins. Have your own pumpkin patch right in your kitchen. After reading Melanie's helpful review, I thought it best to emphasize that you should add sugar to the dough until it is very stiff and leave it at that.

VERY VERY YUMMY!! And rich too! lol They are so adorable too...and come to think of it , you could use these at anytime of the year. Christmas, do stars, or a christmas tree. Valentines Day hearts. At Easter make eggs. The possibilities are endless! Thanks Sue!!!
Melt butter in a large bowl and add a few drops of yellow and red food coloring, until mixture has a nice orange color.
Add the peanut butter and confectioners sugar and mix together until a doughlike consistency is reached. (This means that when the dough is nice and stiff and it gets hard to add any more sugar, to let it go at that).
Shape dough into small balls shaped like pumpkins; make ridges on the pumpkins with a toothpick.
Add a small amount of green decorators icing to the top of each pumpkin for a stem.
Refrigerate, if desired, to allow pumpkins to firm.
Serve on a plate lined with toasted coconut and Halloween decorated cookies, if desired; these also look good on top of cupcakes.