CandyTX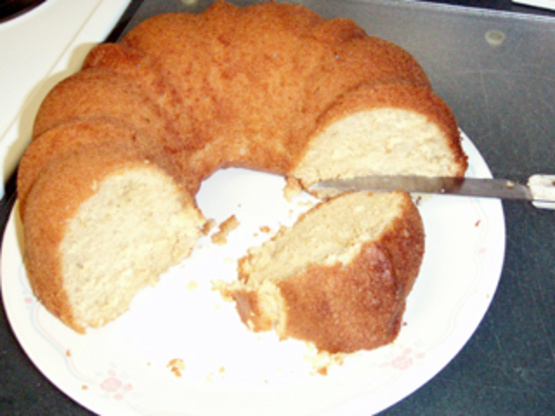 Oh wow! A major diet breaker and worth every bite! I used creamy peanut butter, and then upped crushed peanuts to 1/2 a cup! This makes a dense cake, very rich, and a little piece goes a long, long way! Even better the next day with some Nutella spread on it! Thanks meow!, this was worth falling of the wagon!
Cream butter and sugar until light.
Beat in eggs, one at a time, beating well after each.
Add vanilla, beat in peanut butter slowly.
Sift flour with baking powder and salt.
Stir into butter mixture, a little at a time, until well blended.
Grease a tube pan; pour batter in and bake 45 minutes at 350°F; reduce heat to 325°F and bake until cake tests done, 15 to 20 minutes longer.
Cool in pan on rack 10 minutes before removing to rack to cool completely.
If desired, sprinkle chopped peanuts on cake towards the end of baking while batter is still soft to give it a crunchy topping.