Peanut Butter Oatmeal Muffins for Kids (Or Adults)
GaylaJ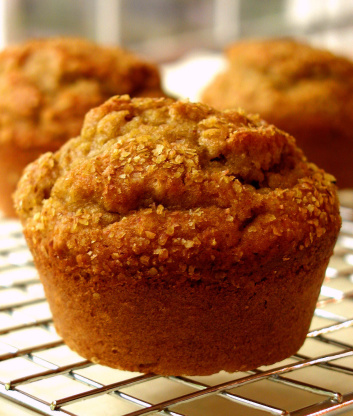 I wanted to start cooking healthier choices to make available for my son's breakfast or snack. Beings he loves cupcakes, I pulled this one off as a "peanut butter cupcake" and it worked like a gem. Upon serving, spread on some butter with jelly or honey. This recipe originated from a 1980's edition of Better Homes and Gardens Kids Snacks cookbook, handed down to me from my aunt, whose kids are now grown.

I used a some whole wheat pastry flour instead of flour. I used toasted rolled oats instead of the quick oats. I also put a piece of banana in the center before cooking. Very good muffins
Preheat oven to 400 degrees.
In a mixing bowl, stir together first 6 ingredients, mixing well while making a well in the center of the mixture.
In another bowl, mix brown sugar and peanut butter with a mixer on medium speed setting until fluffy.
Add egg and beat well.
Now add the flour mixture to the beaten mixture; at the same time slowly add the milk and beat until well blended.
Grease a muffin pan or line the pan cups with paper baking cups; sprinkle some wheat germ to coat the cups.
Spoon batter into the cups, filling it about 3/4 of the way full.
Top with additional sprinkled wheat germ and bake for 15 to 20 minutes or until golden.
Remove from pan; serve warm immediately or cover with foil and/or store in an air tight container until serving.
*I also topped off these muffins by spreading on some extra peanut butter on the top.
*To reheat: place in microwave on High for 8 seconds.