Peanut Butter Oatmeal Cookies
Rita1652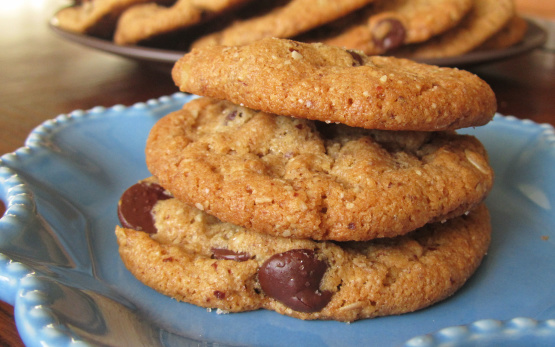 John was hinting for oatmeal cookies and I came across Katzen's Old Fashioned Peanut Butter Cookies recipe and thought why not tweak it to make it with oatmeal and gluten free and this is what I came up with. Thanks Katzen. ;) FYI almond flour can be made by simply processing raw almonds in the blender until they have turned into fine crumbs. Don't over blend, otherwise you'll make almond butter! It usually takes 5 second pulses for about 20 times.
Not bad at all, I'm surprised to see so many reviews about crumbly cookies! I used regular flour and had no problems, but my dough was pretty sticky. The texture is just right with a chewy center and crisp edges. The flavor is a little flat but not bad, I would add cinnamon/nutmeg/allspice next time for more kick. One thing I did different was I used powdered peanut butter (mixed up to the correct consistency). I also used dried cranberries instead of chocolate chips.
Heat oven to 350°F.
Mix flour, oatmeal, baking powder, baking soda and salt; set aside. Beat coconut oil, peanut butter and sugars in large bowl with mixer until light and fluffy.
Blend in eggs and vanilla. Gradually add flour mixture, beating well after each addition.
Fold in Chocolate chips.
Roll into tablespoonful size balls of dough, 2 inches apart, onto greased baking sheets. Sprinkle with sugar if desired. Flatten each, in criss-cross pattern, with tines of fork.
Bake for 10 minute or until golden brown. Cool on baking sheets 5 minutes; transfer to wire racks. Cool completely.