Peanut Butter-Oatmeal-Chocolate Chip Cookies
Katzen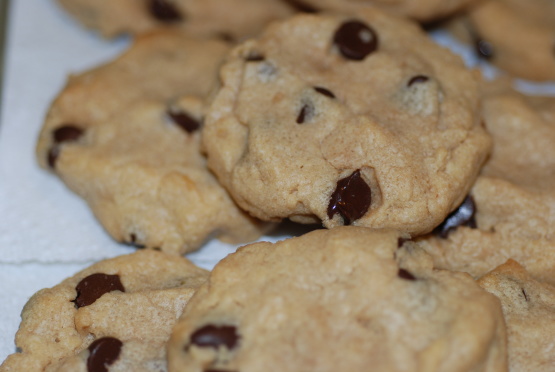 The basis of this recipe came from my boyfriend's mother's secret, "blue-ribbon-winning chocolate-chip cookie recipe" more than 20 years ago. The secret recipe happens to be nearly identical to the one in my Good Housekeeping cookbook :) I added the peanut butter and oatmeal for variety and changed the shortening from Crisco to butter. It usually takes about an hour to turn out a batch of cookies. I just split the time evenly between prep and bake since cookies require babysitting. The nutrition information appears to be for the entire batch. I usually get about five dozen small (--2") cookies from this recipe.
Oh man. I used applejuice instead of sauce. Not sure if it would be the leading problem in the soft bland spounge cookies I made but it was about my only drivitive. Oh also I used unsalted nuts. I had more luck with the standard recipie, but imagine these things might be healthier. ...or maybe not I dont know they looked like tuna fish as dough with all the soy milk I had to add. Not blaming the author just had bad luck.
Preheat oven to 350 degrees F.
Cream butter, sugars and eggs. An electric mixer makes this easier, of course.
Add vanilla and mix.
Add peanut butter and mix until the sugars have dissolved. There should be very little or no grittiness left. This should take only a few minutes.
Sprinkle in baking soda and salt, making sure they mix throughout.
Add rolled oats and mix just until blended.
Remove bowl from mixer and stir flour in a cup or so at a time. I like a "medium" dough -- soft enough that I can roll it but not so soft that it sticks to my hands. If you like flatter cookies that spread out more, you might cut back on the flour. If you like rounder cookies, you might add a little more flour.
When the dough is the consistency you prefer, stir in the chocolate chips. If DH weren't a nut hater, I'd stir in a cup of walnuts or pecans here, too.
Form balls (or drop dough) of approximately heaping tablespoons size onto an ungreased cookie sheet, flattening the balls or blobs of dough slightly.
Bake for 9-11 minutes. I like to pull them right after the cookies have risen to their highest point and then "fallen."
I hope you enjoy them!