Peanut Butter Oatmeal Bars
Derf2440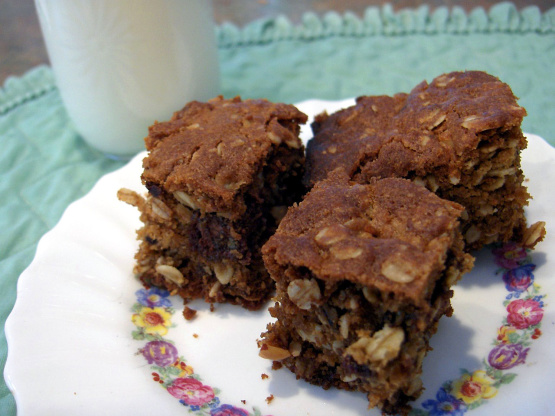 A simple recipe that I got from a friend. Very Yummy. I changed the baking time after several reviews suggested that the baking time needed to be extended.

Baked these this afternoon for DH, he loves them, his favourite flavour, also loves peanut butter cookies. The only thing I did different was to pour the chocolate chips on the hot bars as soon as I took them out of the oven and spread them as they melted on the hot bars. Saves another dirty pot. I had one bite and they are very good! He's already asking to make them often. Thanks for sharing. January 20 ,2007 , very good this time I made them with the chocolate inside, very good this way, infact DH likes them better this way. thanks again.
Preheat oven to 350 degrees F.
Combine sugars and butter.
Add peanut butter and vanilla.
Mix in eggs.
Add flour, baking soda, salt and oatmeal.
Bake in a 9 X 13 inch pan for 35 to 40 minutes.
Cool.
Melt chocolate chips and spread on bars.
Enjoy.