Peanut Butter & Oat Muffins
Annacia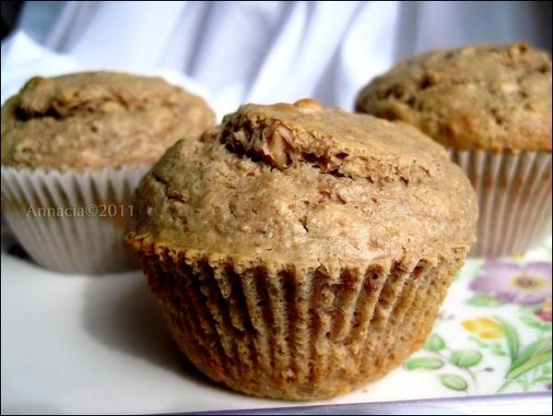 I found this in a TOH mini cookbooklet. Submitted by E. Searer. They are a dense muffin and not overly sweet. Great for breakfast or mid-afternoon treat.

Super muffin! For a muffin with no added fat these are very moist and delicious. Especially considering that made them with 3/4 cop whole wheat flour and 1/2 cup of all purpose and used Porridge Oats (a mix of old fashioned oats, oat bran, crushed flax seed an other very high fibrous things that are really good for you). Adams peanut butter (a natural brand that has NO added fat or sugar and salt is even optional) is that only brand that I buy and all I have on hand right now is smooth but I wanted the nut crunch so I rough chopped some cashews and tossed them in........YUM. Oh! and I used a 3/4 cup half full of Splenda Brown. This is a keeper recipe for sure. Made for Almost 5 Game 2011.
In a small mixing bowl, combine the flour, oats, brown sugar, baking powder, salt and cinnamon.
In another bowl, beat the egg, peanut butter and milk until smooth.
Stir wet ingredients into the dry ingredients - just until moistened.
Fold in chopped peanuts.
Fill greased or paper lined muffin cups 3/4ths way full.
Bake at 375F for 15-18 minutes or until a pick comes out clean.
Cool for 5 minutes before transfering to a wire rack.