Peanut Butter Oat Chocolate Chip Cookies
-Sylvie-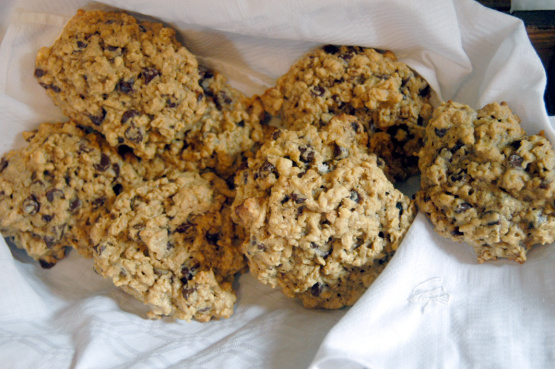 There are many versions of this recipe, but this the best! 8) Very rich and perfect for the chocolate and peanut butter lovers out there! 8)

Very tasty. I used a 1" melon scoop to portion these onto the cookie sheet. After the first tray I decided to flatten the dough slightly before baking to achieve a better cookie appearance. Otherwise they look a little like drop biscuits because they don't spread out much, if at all. I only baked half the batch and froze the rest of the pre-portioned dough in a zip top bag. Defrost the dough balls for 15 minutes or so and bake...they come out just great! Next time I will prepare a double batch of dough since it freezes so well. Super convenient to have cookie dough that is ready to go!
Preheat oven to 375°.
Beat peanut butter, butters and sugar until fluffy.
Beat in egg, milk and vanilla extract.
Combine flour, baking soda and salt; add to mixture and blend well.
Stir in the oats and chocolate chips.
Drop by rounded tablespoonfuls onto ungreased cookie sheet.
Bake 10-15 minutes.