Derf2440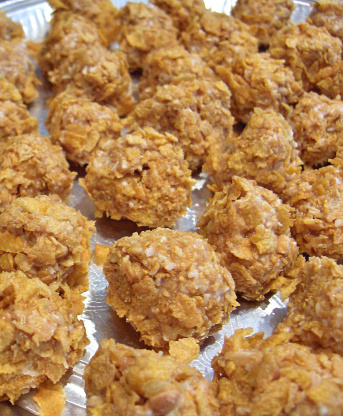 Tasty addition to a cookie tray, from Canadian Diabetes Association.

These are the best PB Nuggets I have ever eaten! I made these at midnight yday and had planned to save them for Mother's day for my mom. But, these were gone in seconds(thanks to the unexpected guests we had today)! I will have to make these in plenty from now on, seeing the way they vanished off the cookie plate, I kept wondering why didn't I make these delights before! They are so good. I must mention here that I used an additional 1/4 cup of corn flakes and an additional 1/2 cup of coconut. Thank you for sharing the recipe, it is just GREAT!
Combine 1/2 cup cornflakes, coconut, peanut butter and honey, mix thoroughly.
Measure out 2 tablespoon portions, shape into balls.
Roll in remaining corn flake crumbs.
Place on a plate.
Chill until firm.
Store in a cover container in refrigerator.