Peanut Butter No Bake Cookies
David04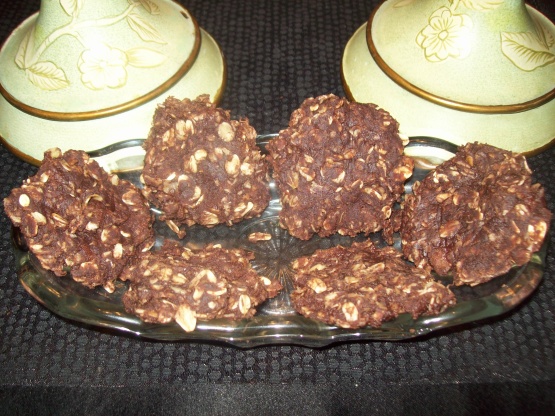 This is a chocolatey peanut butter cookie with a hint of banana. I like to use flavored peanut butter to give it some flare. I have used chocolate-peanut butter. You can also use a cinnamon raisin peanut butter or a white chocoalate-macademia PB. They are made by Peanut Butter & Company, and it can be found in the PB aisle at most grocery stores. Usually on the top shelf.
Combine the banana, milk, Splenda and cocoa in a sauce pan over medium heat, bring to a boil. Stir constantly for 1 minute. Add vanilla, then peanut butter and then oatmeal.
Remove from heat & mix well. Before the mixture has time to harden, quickly drop onto was paper using a dinner spoon.
Allow to cool at room temperature, enjoy.