Peanut Butter Krispies Bars
Boomette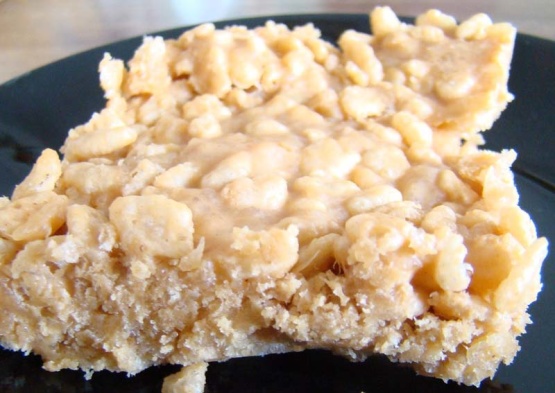 With a parent's supervision, this is a kid-friendly recipe. Prep time includes time to chill.

These were so good that I ate myself silly! The only problem that I did have with them is that the icing didn't come out with just 1 Tbsp of milk. I had to add about an additional 1/4 cup to the Tbsp because the icing was way too pasty and not spreadable BUT I didn't sift the powdered sugar either so that may have been why it turned out like that. I forgot to sift the powdered sugar because I was in a hurry to make them. Guess I need to pay a little better attention to what I am doing :) I will make this again and again. They were just absolutely wonderful. Thank you, Bev.
In large glass bowl, combine granulated sugar, corn syrup, and salt.
Microwave about 3 minutes or till sugar is dissolved.
Blend in peanut butter; stir in cereal.
Pat evenly into buttered 11x7x2-inch pan.
In small glass bowl, microwave butter or margarine and brown sugar for 45 seconds or till melted.
Add milk and vanilla.
Stir in powdered sugar; beat till smooth.
Spread over peanut butter-cereal mixture.
Chill till firm.
Cut into small bars.
Makes 4 dozen.