CoffeeB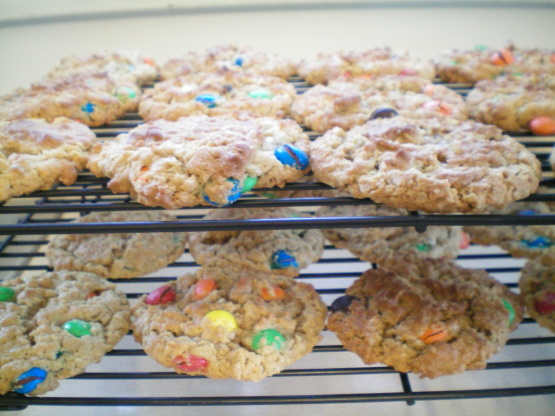 From D. Huffer in the Simple & Delicious magazine. I need some place to keep this recipe safe from the recycling bin monitored by DH. They say reduced fat or generic brands of peanut butter are not recommended for this recipe.

These cookies are great. I liked them warm out of the oven but love them the next day at room temp. I made these 2 times because the 1st time I realized in the middle of making them I didn't have enough oatmeal and m&m bits. BTW they were still good that way, but definately better as written. I love that you can really taste the peanut butter.
In a large mixing bowl, cream peanut butter, butter and sugars together.
Add eggs, one at a time, beating well after each addition.
Beat in vanilla.
Combine oats and baking soda and gradually add to the creamed mixture.
Stir in chocolate chips and M&M bits.
Drop by heaping tablespoonfuls 2-inches apart onto ungreased baking pans.
Bake at 350 for 12-14 minutes or until edges are browned.
Remove to wire racks to cool.