Boomette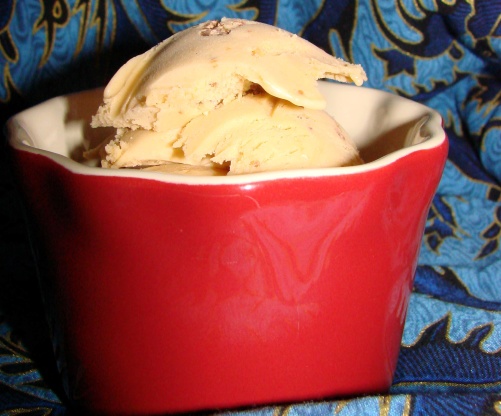 I love both Ice Cream and Peanut Butter. Try this and I think you'll agree that there is nothing better!

Amazing! A huge hit at a recent dinner party, too! I made it with chunky peanut butter because I liked the contrast of the crunchy nuts to the smooth ice cream. Thanks for sharing this great recipe!
In a medium bowl, beat the sugar and eggs with an electric mixer until thick, about 3 minutes. Set aside.
Pour milk into a small saucepan, and bring to a simmer over low heat.
Gradually drizzle the hot milk into the eggs while whisking vigorously. Then pour the whole mixture into the saucepan.
Cook over low heat, stirring constantly, until thick enough to coat the back of a metal spoon. Do not boil.
Remove from heat, and whisk in peanut butter. Allow to cool slightly, then whisk in the sweetened condensed milk, half-and-half and vanilla.
Cover and refrigerate until chilled.
Pour the mixture into an ice cream maker, and freeze according to the manufacturer's instructions.
Fold in peanut butter cups when mixture is still soft, then transfer to a container, and freeze until solid.