Peanut Butter Graham Squares With Dark Chocolate Drizzle
Redsie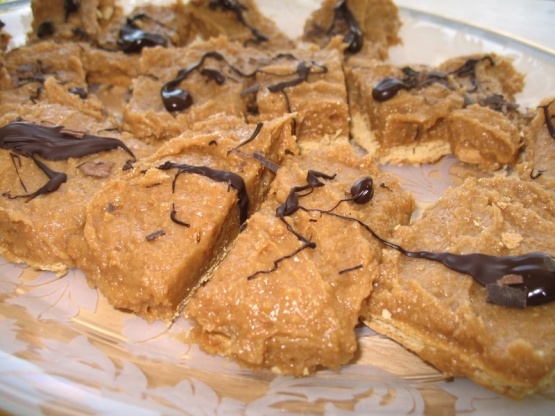 Fast, easy and yummy! Adapted from a King Arthur Flour recipe

Fabulous! You can't get graham crackers in the UK, so I made a biscuit base by melting 2oz butter with 2 tbsp golden syrup, then stirring in 6oz crushed bourbon biscuits (Oreo cookies would probably be the closest US equivalent). I then pressed this into the base of the tin and chilled it while making the topping. Not only did it add a delicious chocolatey flavour, but it also provided a lovely colour contrast with the light brown topping. I used real butter, ordinary peanut butter and digestive biscuit crumbs for the topping and had no problems with it being too sloppy, even when stored at room temperature.
Arrange whole graham crackers in the bottom of an 8x8" square baking dish.
In a medium mixing bowl, beat together graham cracker crumbs, butter, sugar, peanut butter, vanilla and salt until smooth.
Scoop this mixture into the baking dish and gently spread over the graham crackers. Cover and place in the refrigerator for at least 1 hour.
Cut into squares and drizzle with melted dark chocolate.