Suzie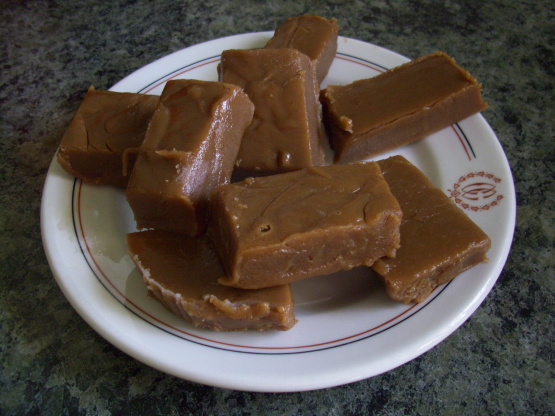 A favorite treat of mine. It is a bit tricky for inexperienced cooks as every stage has different consistencies that are recognized from making these often. It is well worth the effort and practice. I have put what it should resemble, as you go through the steps, in brackets.

First off, this fudge does taste wonderful. However, the consistency leaves something to be desired. It came together looking a bit like cookie dough and stayed that way after it cooled. Very very crumbly. I have been making fudge for several years and have never had it turn out the consistency that this did. Probably will not make again.
Grease and 8x8 inch pan.
In a saucepan over medium heat, combine the brown sugar, butter and milk.
Cook until the mixture reaches the softball stage. 234-240 degrees F, 112-115 degrees C (Resembles frothy bubbles).
Combine the cornstarch and water, add to the saucepan and mix well. Remove from heat and beat for 2 minutes. (It will lose it's gloss as it gets close to being ready for next step).
Stir in the vanilla and peanut butter until well blended.
Spread evenly into prepared pan.
Let cool then cut into squares. (It will look a couple of shades paler).