Prep 30 mins
Cook 40 mins
a healthy treat for dogs to eat.
Make and share this Peanut Butter Dog Treats recipe from Food.com.
Directions
mix together flour,oatmeal, and peanut butter.
add hot water to make firm dough. Use more water if dough is too dry.
Knead dough on a floured surface. a counter works well.
Roll dough with a rolling pin or flatten with your hands until it is about a 1/4 inch thick. Keep a little flour in case the rolling pin or your hands get sticky.
cut dough with your favorite cookie cutter.
grease a cookie sheet with cooking spray.
place biscuits on cookie sheet.
bake in 350 degree oven for 40 minutes
let biscuits cool for an hour and put in the fridge.
Reviews
Most Helpful
These were fun to make. We have a 3 pound dog, so halved the recipe and still ended up with a ton. Instead of rolling them out, we just rolled them between our hands and pressed them to the right thickness. Our little pup loves peanut butter and ate these right up! Thanks!
Very easy to make and they were a hit with my Boston Terrier. I cut mine into bone & squirrel shapes. Check out my photo.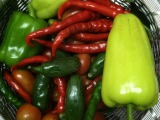 These are the easiest dog treats to make and my pooch just loves them. Every time I start making them my dog will just sit next to me until they are finished.