Lainey39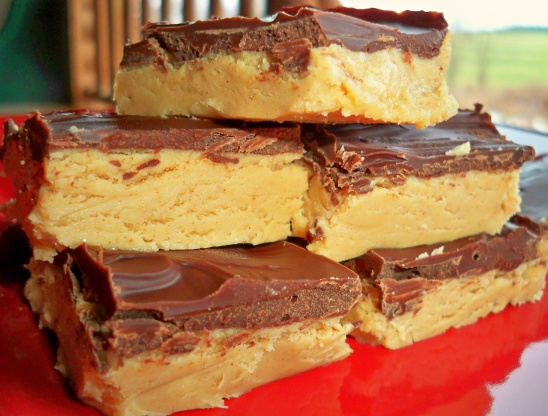 There are so many different versions of this wonderful combination. This is mine and I have used it for close to 20 years. This is DS favorite! The creamy peanut butter refers to a brand such as Jif or Skippy. I don't think a natural peanut butter will work as it is missing the oil Also, the margarine for the chocolate mixture is melted before adding to the chocolate chips. If water gets in the chocolate it well "seize".

I have made many versions of Reese's cups, but this one has the best texture. The taste is great and they have just the right mouthfeel to make them very satisfying. I made half the recipe of filling and the whole recipe of chocolate coating so that I could make them in my silicone giant peanut butter cup mold pan. I just divided half of the chocolate between the six cups and pushed it up the sides a bit and then put it into the freezer for a few minutes while I made the filling into 6 thick patties. Then I put the filling into the cups and spooned the rest of the chocolate over them to make peanut butter cups (I did put the chocolate back into the microwave for about 10 seconds first). The result is 6 huge, perfectly shaped peanut butter cups that are so good that I had to stop myself from eating a whole one so I wouldn't get a bellyache. The only change that I made is that I used the microwave to melt the chocolate and I used a huge (about 11 oz.) Lindt chocolate bar so the chocolate is very creamy and smooth. Thanks, Paula...DH and I are very grateful!
With a pastry blender, cut the peanut butter, 1/2 cup margarine and powdered sugar together by hand DO NOT USE A MIXER OR IT WILL BE TO CREAMY; the mixture may need to be "kneaded by hand".
Line a 13x9x2 inch pan with foil, spread the mixture with slightly buttered hands into prepared pan.
In top of double boiler over boiling water, add 1 tablespoon melted margarine and 12 oz chocolate chips taking care not to get water into the mix.
Stir constantly until melted, mixture will be glossy.
Spread immediately over peanut butter mixture.
Allow to cool and harden slightly, cut into squares.
DH suggested using a pizza cutter to cut these into squares and it works great!
After these are cut and the chocolate has set, I store these covered in a tupperware container.