Peanut Butter Cup Brownie Bottom Cheesecake
Zachary A.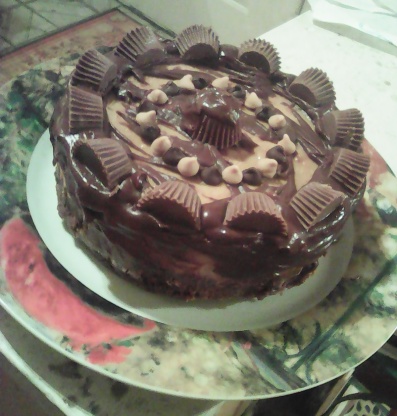 The Dessert of the Gods!! Guaranteed to be a flavorful nuclear explosion of peanut-buttery, brownie, chocolate-chip, cheesecakey goodness! Caution- ingredient make a LARGE cheesecake. When using a standard 9 inch springform pan, either scale the measurements or just make another MINI cheesecake! From a Cheesecake contest
I made this for our company Christmas luncheon, and it was a big hit! I had gotten the recipe off of another website, but it has since disappeared so I am glad to see it here on Food.com! Instead of buying separate bags of chocolate chips and peanut butter chips, I just bought two bags of the mixed chocolate and peanut butter chips and used one bag on top of the brownie crust and another for the topping (yes one bag isn't quite two cups but it's close enough and worked quite well). And like another reviewer suggested, next time I plan to use the miniature cups for decoration since people use them as portion guides.
Update: Using the miniature peanut butter cups works very well. It takes about 25 halves.
Brownie Crust

1

cup semi-sweet chocolate chips

1

cup peanut butter chips

6

tablespoons unsalted butter, melted
1 1⁄4 cups sugar

1

tablespoon vanilla extract

2

eggs

1

cup all-purpose flour

2

tablespoons all-purpose flour
1⁄3 cup unsweetened cocoa
1⁄2 teaspoon baking powder
1⁄2 teaspoon salt

Cheesecake Filling

2

lbs cream cheese, softened

5

eggs, at room temperature
1 1⁄2 cups firmly packed brown sugar

1

cup smooth peanut butter (not natural-style)
1⁄2 cup whipping cream

1

tablespoon vanilla extract

6

peanut butter cups, cut into quarters

Decoration

6

peanut butter cups, cut carefully in half
1⁄2 cup whipping cream

1

cup semi-sweet chocolate chips

1

cup peanut butter cup
Heat oven to 350°F Grease 9-inch springform pan with butter.
Stir together butter, sugar and vanilla in large bowl with spoon or wire whisk. Add eggs; stir until well blended. Stir in flour, cocoa, baking powder and salt; blend well. Spread in prepared pan.
Bake 25 to 30 minutes or until brownie begins to pull away from side of pan. Meanwhile make cheesecake layer (see below).
Immediately after removing brownie from oven, sprinkle milk chocolate chips, peanut butter chips and peanut butter cups over brownie surface. Spoon cheesecake mixture over chips. Turn down oven 325°.
Cheesecake Filling:.(makes extra).
Beat cream cheese in bowl of electric mixer until smooth.
Add eggs, one at a time, beating well after each addition.
Add sugar, peanut butter and cream; mix until smooth.
Stir in vanilla.
Pour filling into prepared crust.
IF SOME BATTER IS LEFT OVER, EITHER STORE OR PUT IN SMALLER SPRINGFORM PAN.
Double-wrap springform pan with aluminum foil to prevent water seeping inches.
Place springform pan into a larger baking pan.
Pour hot water into the larger pan so that the water comes 1 inch up the sides of the springform pan.
Bake at 325 degrees 1-1/2 hours, or until firm and lightly browned.
Remove from the oven and allow to cool on a wire rack for one hour.
Run a knife along the edge of the cake to loosen it from the pan somewhat.
Refrigerate for at least 4 hours before decorating.
Decoration- (makes a lot extra-try using it on individual slices after cutting).
Remove cake from pan and put on a pretty plate.
Bring whipping cream to boil in a small saucepan.
Remove from heat and add semi-sweet and peanut butter chips. Stir, stir, stir until melted and smooth.
Drizzle over cake and then add peanut butter cup halves around the edge of the cake.