Pixie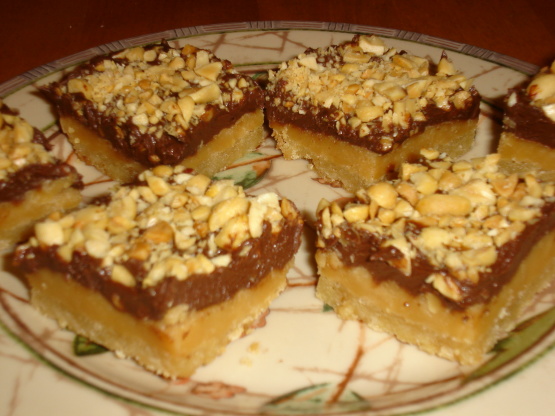 This recipe is a favorite of my family. It is very quick and easy with few ingredients. This is a thin but rich bar with 3 delicious layers.

These were not for me. The middle layer felt too much like a spoonful of butter and the middle layer didn't stick to the crust. The top layer was too soft and melty making the whole thing gooey. I didn't have any problems with the crust or getting them out of the pan though. One of my kids thought these were great - just like pb cups.
Preheat oven to 350 degrees.
Mix together 1/2 cup butter, brown sugar, flour, and water. Spread into an ungreased 9x13 inch pan.
Bake for 10 minutes.
Meanwhile, with a mixer, beat together powdered sugar, milk, 1/2 cup butter, and 3 Tbsp peanut butter.
Spread over warm crust.
Melt together chocolate chips and 3/4 cup peanut butter. (I melt it in the microwave).
Pour over cooled 1st and 2nd layer.
Cool in refrigerator.