Peanut Butter Cookies - the Magnolia Bakery
Katzen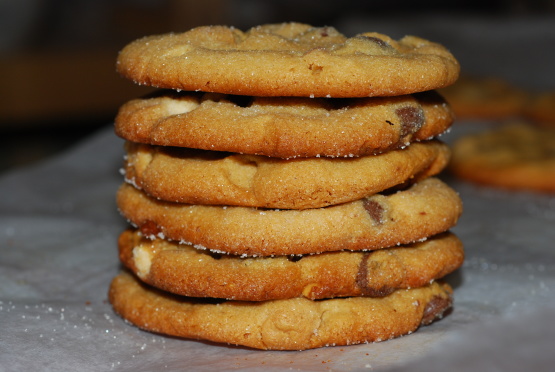 Chocolate chips may be substituted for the coarsely chopped chocolate. You can also use crunchy peanut butter but may want to reduce or eliminate the chopped peanuts. Cookies should be small.

I've made this numerous times for friends and co-workers, always a huge hit! I leave out the choc & peanut butter chips and peanuts. I also use Natural peanut butter (the kind found in the refrigerated section), let it sit til room temp and then leave out the milk (as this kind of PB is runny at rm temp). Awesome and highly addictive!
Preheat oven to 350 degrees.
In a medium bowl, combine the flour, baking soda, baking powder, and salt.
In a large bowl, beat the butter and the peanut butter together until fluffy.
Add the sugars and beat until smooth. Add the egg, milk and vanilla extract and mix well.
Add the flour mixture and beat thoroughly.
Stir in the peanut butter chips, chocolate, and peanuts.
Refrigerate the dough for 10-20 minutes.
Drop the dough by rounded teaspoonfuls into a bowl of granulated sugar.
Place onto ungreased cookie sheets, at least two inches apart. Using a fork, lightly indent with a crisss-cross pattern (do not over flatten).
Bake for 10 to 12 minutes. Do not overbake; cookies may appear to be underdone but they will continue to bake after removed from the oven.
Cool the cookies on the sheets for 1 minute, then remove to a rack to cool completely.