Soup Fly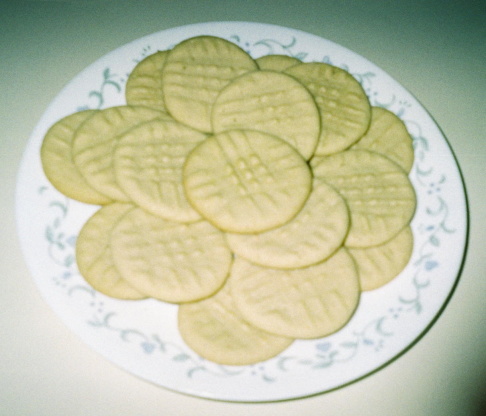 A very simple recipe but they turn out great. Also, it is not a huge recipe. I got this from a church cookbook many years ago.
Perfect!! The taste and texture are exactly right. They came out soft with that slight crusty edge and bottom only peanut butter cookies can get just right. Not an overpowering amount of PB, but enough to make them delicious. They are very easy to make, mixed up like a dream. I had to let them cook about 12 minutes instead of 10, but that may be because I made them too big. I got 2 dozen cookies. My boyfriend LOVED them. :-)
Cream in order given.
Add sifted dry ingredients.
Form into balls and flatten with fork dipped in water.
Bake at 350° for 10 minutes.
For added interest, sprinkle with a few coloured trimettes.