Swirling F.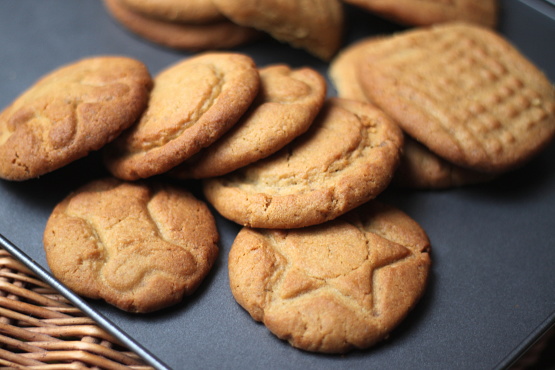 I've been baking these since I was a little girl. Nothing better than a glass of milk and a couple of warm peanut butter cookies!

Top Review by Marla
I have been looking for a peanut butter cookie recipe that was simple and delicious. It has been a long search and it is now over! As soon as I saw how simple it was I couldn''t wait to make them. They have enough Peanut Butter in them to make you come back for more. I have found that a sugared fork makes the cookies a little sweeter than a floured fork. No matter what this recipe is the best peanut butter cookie i have found.
Preheat oven to 375º.
Mix first six ingredients.
Add the rest of the ingredients.
Mix well.
Roll into balls and press down with a fork dipped in sugar or flour.
Bake for 10-12 minutes on ungreased cookie sheet (I usually grease my cookie sheet anyway). Ovens vary so your baking time may be less. Just keep an eye on them.