Peanut Butter Cocoa in a Crock Pot
Lainey39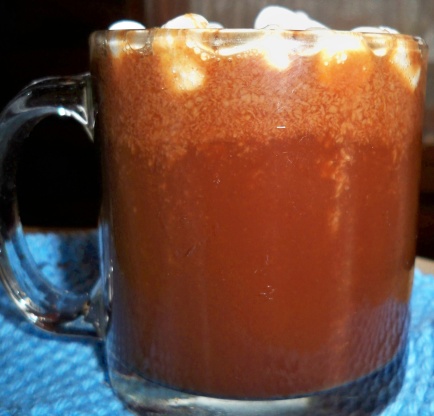 Slow cooked cocoa? yes! just plan ahead and get ready for a treat.

I made 1/4 recipe in my 1 1/2 qt crock! 2 packets sugar free cocoa mix, 2 c water, 1/4 c hershey syrup, 1 Tbl PB, and a dash of vanilla. Reduced calories and sugar by half! Yummy treat and warmed me up on a chilly fall morning. Thanks for a keeper Annacia. Made for Diabetic Tailgate Party.
1

cup powdered chocolate milk mix or 1 cup chocolate fudge powdered cocoa mix

8

cups hot water
3⁄4 cup chocolate flavored syrup
1⁄4 cup creamy peanut butter
1 1⁄2 teaspoons vanilla
Place cocoa mix in a 3-1/2- or 4-quart slow cooker.
Carefully stir in hot water.
Stir in chocolate-flavored syrup.
Cover and cook on low-heat setting for 3 to 4 hours or on high-heat setting for 1-1/2 to 2 hours.
Whisk in peanut butter and vanilla until smooth.
Ladle cocoa into mugs.
Makes 9 (8-ounce) servings.