Peanut Butter Chocolate Pretzels
Perfect for the holidays and of course two of my favorite's being peanut butter and chocolate. I'm in heaven.
Ingredients
Nutrition
2

cups semi-sweet chocolate chips

4

teaspoons vegetable oil, divided

35 -40

large thin pretzel twists
1⁄2 cup peanut butter chips
Directions
In a microwave or heavy saucepan, melt chocolate chips and 3 t. oil until smooth.
Dip pretzels, shake off excess.
Place on waxed paper-lined baking sheet to set and then refrigerate for one hour.
Meanwhile melt the peanut butter chips and remaining oil.
Transfer to a small resealable bag.
Cut a small hole in the corner of bag, drizzle over 1/2 the pretzels and again refrigerate until hardened.
Store in a airtight container.
Reviews
Most Helpful
Made as directed, these were a little tricky for me as they were dripping heavily with chocolate from/to baking tray. I used my stainless steel tongs to manipulate these from the chocolate pot to prepared baking sheets. The recipients of these delectable treasures insist these are no less than 5 stars -- even picky DH who doesn't like 'Zaar recipes! :)Thanks, CoffeeB. Made for Veggie Recipe Swap.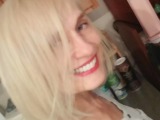 A big 5 stars for these. First off, they are delicious, and second, they are so simple to do. My oldest son thought I bought these. He loved them. These will look pretty for my Christmas tray, if they make it to Christmas. Thank you for the wonderful recipe.
OMG!!! These are delicious and a weak sweet for me, as I love the sweet and salty treats!!!! This is so easy to make, rather than buy the expensive chocolate covered pretzels. We ate some before I added the pb topping and our house prefers it without the pb. Only thing I might suggest to add to the instructions is to refrigerate once coated in chocolate and then again when adding the pb topping. Great easy recipe that will be made often, probably too often, at this house. Thanks CoffeeB for posting. Made for zaar stars tag.