Peanut Butter Chocolate Drops Muffins
Laka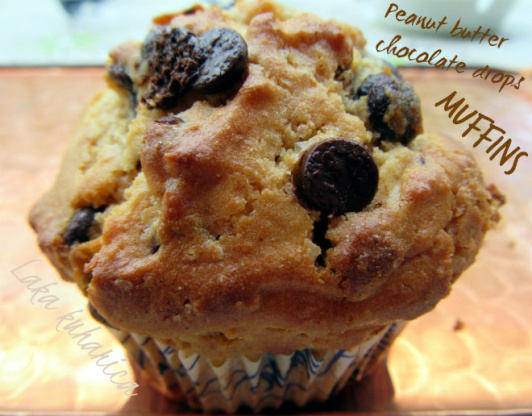 Recipe by Laka
Light and fluffy muffins are full of delicious peanut butter and dark chocolate flavors.
In a medium bowl, sift together the flours, baking powder, and sea salt. Set aside.
In a large bowl of an electric or stand mixer, cream butter, peanut butter, and brown sugar until smooth and well combined.
Add the eggs one at a time, mixing thoroughly after each addition. Add the milk and stir until combined.
Add the dry ingredients to the wet ingredients and stir until just combined - do not over mix. Mix in the chocolate drops.
Spoon the batter into the into the greased or lined with muffin paper liners muffin tins, filling them evenly. Sprinkle the tops with some chocolate drops.
Bake the muffins at 220ᵒC for 5 minutes. Reduce temperature to 190ᵒC and bake for additional 12 - 15 minutes until a toothpick inserted in the center comes out clean. Allow muffins to cool for about 5 minutes. Take out of the tins and allow to cool completely.