Peanut Butter Chocolate Cups
MA HIKER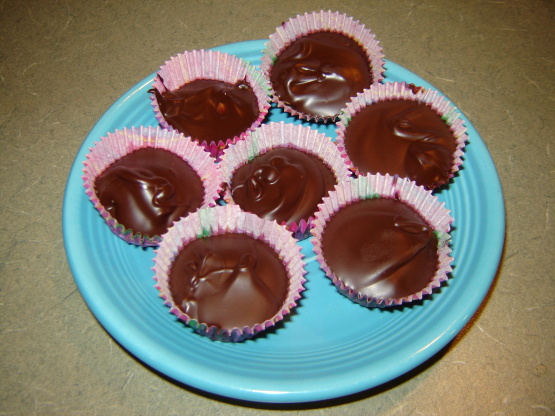 Yummy! You may not buy them after making your own!

I love peanut butter & DARK chocolate - Reeses hasn't figured out that combo yet (Newman's Own has but they are quite expensive) so I made this recipe with dark chocolate and made mini-pb cups (in tarlet size tins) for Easter. Very very yummy! Thanks for posting
In microwave, melt chocoloate, butter, and shortening; stir until smooth.
Place foil or mini paper baking cups in a mini muffin pan. Place 1 tablespoon of chocolate mixture in each cup.
In microwave, heat peanut butter until melted. Spoon into cups. Top with remaining chocolate.
Refrigerate for 30 minutes or until firm.