Peanut Butter Chocolate Cookies
Katzen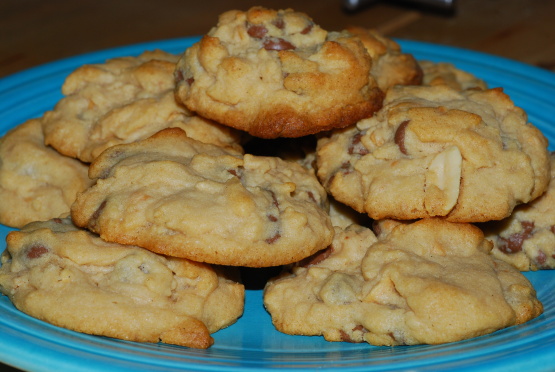 A very tasty, crisp, semi-sweet blond cookie. Perfect for all those peanut and chocolate lovers out there! =) If desired substitute m&m's for the chopped chocolate (e.g. for kid's birthday parties).

Top Review by Katzen
Wonderful cookies, as usual, Loula! I totally forgot to put the dough in the freezer, but it didn't seem to cause any problem - they still turned out fantastic! I used milk chocolate chips because I didn't have the chocolate called for. I also added a bit of vanilla paste but that was because I got this recipe confused with the other one of yours I was considering - was a great addition, though! Thanks so much for a great recipe! Recipenapped for Veg*n Swap 22.
Preheat the oven to 190 °C.
Using a wooden spoon cream butter and peanut butter in a big bowl until completely blended.
Add sugar and blend in well. Then add the egg.
Sift baking powder, flour and salt and add to the mixture.
Chop peanuts and chocolate and add as well.
Work into a soft dough, wrap in cling film and deep freeze for 10 minutes.
Form 15 big cookies, place them onto a paper-lined/greased baking sheet and flatten lightly.
Bake for approximately 15 mins until golden brown.