Peanut Butter Chocolate Chip Mini Muffins
Redsie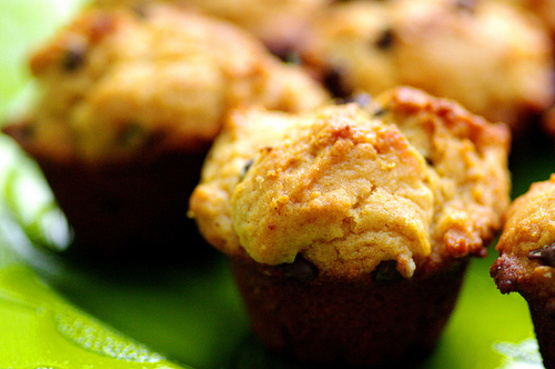 PERFECT for snacking, breakfast on the go, school lunches, preschool snacks...and don't forget a big cold glass of milk to wash them down!

Top Review by Bobbin
I love peanut butter and chocolate so these sounded delicious, but they did not live up to my expectations. They were dry and the flavor was just so-so. I did not overcook them so that is not why they were dry; I baked mine at 325 degrees for 10-11 minutes and they tested done. (The recipe says to cook them at 350 for 15-20 minutes.) I do not think I will make these again.
Preheat oven to 350º.
Lightly butter 24 1 3/4-by-3/4-inch (1 ounce) miniature muffin cups.
I just spray with non-stick spray.
Stir together flour, brown sugar, baking powder and salt in a large bowl.
In another bowl, stir together milk, peanut butter, oil, egg and vanilla extract until blended.
Make a well in the center of the dry ingredients.
Add liquid ingredients and stir just to combine.
Add the mini chocolate chips (I've also used the regular sized ones).
Spoon batter into prepared muffin cups.
Bake 15 to 20 minutes, or until a toothpick inserted into middle of muffin comes out clean.
Place muffin tin on wire rack and cool for five minutes before removing muffins.
Serve warm or cool completely and store in an airtight container at room temperature.