Peanut Butter-Chocolate Chip Fudge
NELady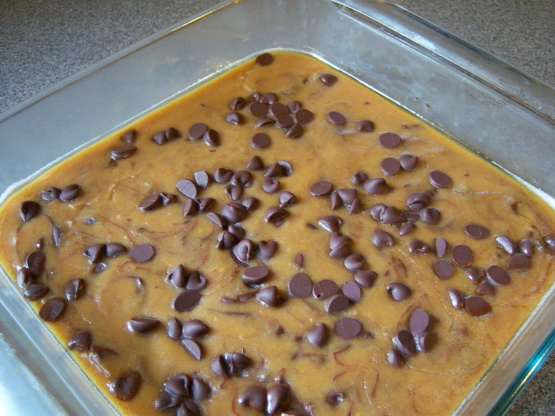 From Health Magazine Posting for safe keeping Times are approximate

Top Review by NELady
I'm writing this review without a rating because I think I must have done something wrong (after reading the other reviews). This fudge did NOT set up for me - it was still runny after a couple of hours in the refrigerator. I'll let it sit overnight to see if it comes together, but I'm not hopeful. I thought I was careful to follow the recipe exactly, but it didn't turn out for me at all. Made for Photo Tag.
Combine first 6 ingredients (sugar through salt) in a large saucepan. Bring to a boil over medium heat; cook 10 minutes or until a candy thermometer registers 234°, stirring occasionally. Remove from heat. Add peanut butter and vanilla; stir until peanut butter melts.
Pour mixture into an 8-inch square baking pan coated with cooking spray. Sprinkle with chocolate chips. Cool for 1 hour. Cut into squares.