Peanut Butter Chocolate Chip Cheesecake
Boomette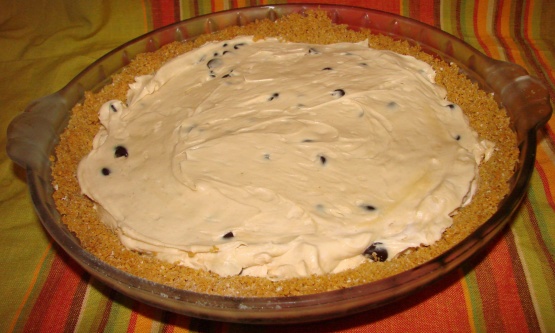 Peanut butter and mini-chocolate chips! The filling is not cooked, so its ready fairly quickly. You could easily use a prepared graham cracker crust if you like, then it would be a no-bake recipe.
I love this cheesecake but I don't like the chocolate chips in it. But I didn't have mini so I used regular chocolate chips. Another time, I will omit the chocolate chips. I used 1 1/4 cups of graham cracker crumbs to do the crust. Thanks Brooke :) Made for the Newest Zaar tag
Preheat oven to 350.
To make the crust: Using a food processor, crush graham crackers into tiny crumbs.
Add sugars and pulse until combined.
Add butter and pulse until mixture begins to come together.
Press into bottom and up sides of a 9 inch glass pie plate.
Bake for 8-9 minutes, remove and allow to cool to room temperature.
While crust is cooling, make the filling: Using stand mixture, beat cream cheese, sour cream, peanut butter, vanilla and powdered sugar.
Fold in Cool Whip Free and mini-chocolate chips by hand; careful not to over mix or the cool whip will lose its fluff.
Refrigerate for 30-60 minutes, the longer the better!
Remove from fridge immediately before serving.