Peanut Butter Chocolate Cake
lynmoz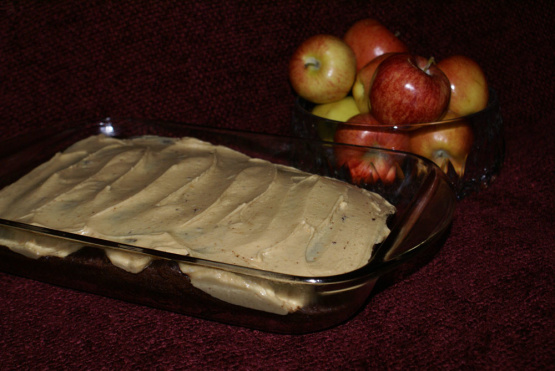 This is very tasty as it's a combination of my two favorites. I just had to post it as I see there are other's w/my same taste passions. This can be taken anywhere as the peanut butter frosting sprinkled w/the mini-chocolate chips are a nice contrast together. Can also be made as cupcakes.

This is a very yummy local favorite where I come from. The cake recipe is absolutely to die for! This is my new go-to recipe for chocolate cake- I have made it several times now. The frosting is very good, though next time I make it I will double the batch and add extra peanut butter.
In a mixing bowl, combine dry ingredients.
Add eggs, milk, oil and vanilla.
Beat for 2 minutes.
Stir in coffee, (batter will be thin).
Pour into a greased 9x13 inch baking pan.
Bake at 350 degrees for 35-40 minutes.
Cool completely on a wire rack.
Frosting:.
Beat the cream cheese and peanut butter in a mixing bowl until smooth.
Beat in sugar, milk and vanilla.
Spread over cake.
Sprinkle with chocolates chips.
Store in refrigerator.