Peanut Butter Chocolate Cake
DeniseBC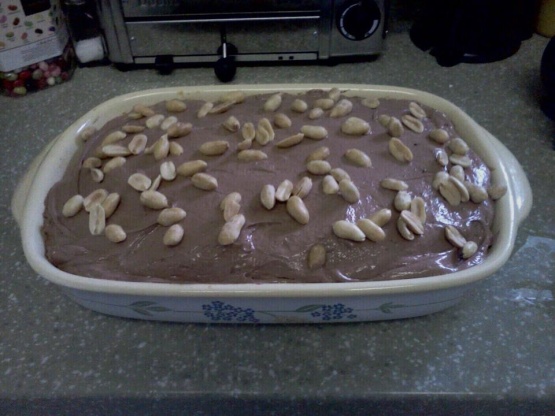 This was in an edition of Light and Tasty, submitted by Annette Abbott. It tastes sinful, but isn't so bad with the use of reduced fat ingredients and applesauce instead of oil. I don't keep reduced fat peanut butter on hand, so I use the full fat.

Top Review by Bippie
Made for Spring 2008 PAC. Fabulous! DH couldn't believe that this was kind of on the low-fat side. I made this for a party at work, but had a really hard time defending this wonderful cake from DH and the dog. Everyone at work was loving this with their morning coffee.
In a large mixing bowl, combine the cake mix, water, eggs and applesauce. Beat on medium speed for 2 minutes. Transfer to a 13-in. x 9-in. x 2-in. baking dish coated with nonstick cooking spray. Bake at 350° for 30-35 minutes or until a toothpick inserted near the center comes out clean.
Immediately drop small amounts of peanut butter over hot cake; return to the oven for 1 minute. Carefully spread peanut butter over cake. Cool on a wire rack.
For frosting, in a small bowl, whisk milk and pudding mix for 1 minute. In a small mixing bowl, beat cream cheese and peanut butter until smooth. Gradually beat in pudding. Beat in half of the whipped topping; fold in remaining whipped topping. Frost cake. Store in the refrigerator.