Peanut Butter, Chocolate & Butterscotch Chips Squares Cookie
diner524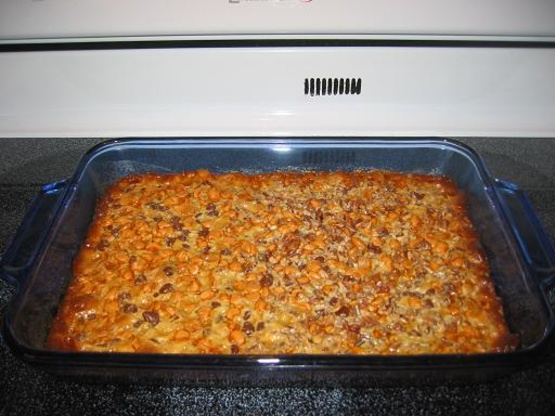 A wonderful treat from our good Canadian friend, Lisa Pensa! She calls these squares so I'm not sure if there is another name for these or not, but they are to die for! She got us hooked on these, especially if you take a few and heat them just a bit in the microwave. Yummy!
These squares are just what you said, Yummy, Yummy!! They also get five stars for the easy, simple and quick recipe for a dessert. I picked this recipe for "PAC" because I already had the chocolate chips, butterscotch chips, pecans and graham cracker crumbs, so only needed the milk and peanut butter chips. I would say prep time is about 5 mins. I only put half with the pecans, as DS does not eat things with nuts. Thanks for a great recipe.
Melt butter in 9 X 13 pan & tilt to spread evenly.
Sprinkle graham cracker crumbs on top of butter.
Next,sprinkle peanut butter chips.
Next, sprinkle chocolate chips.
Next, sprinkle butterscotch chips.
Next, sprinkle pecans.
Than pour the condensed milk on top.
Bake at 350 for 20 - 30 minutes.
Cut into any size squares as you'd like.