Peanut Butter Chip & Chocolate Chip Pancakes
Rita1652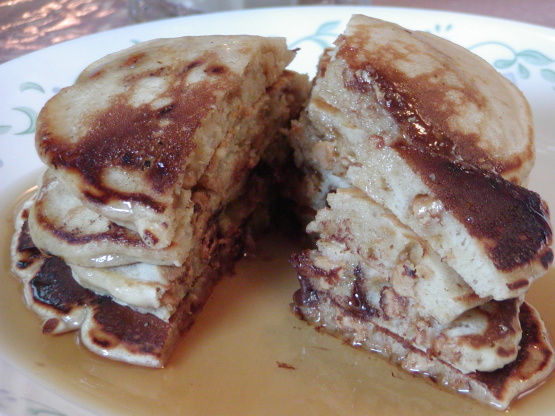 This is for all you peanut butter and chocolate chip lovers out there. A nice brunch dish for kids and adults alike! You can be flexible with the chips. You can do peanut butter or chocolate together or alone & more or less. Just peanut butter alone is really really GOOD! The chips are the kind you would put into cookies.
Preheat griddle.
Combine flour, sugar, cinnamon, baking powder and salt in a large bowl.
Mix together liquid ingredients and whisk into dry mixture until smooth.
Fold in the peanut butter& chocolate chips.
Pour 1/4 cup batter for each pancake onto hot greased griddle.
Cook until the bubbles that form on top begin to pop, before flipping, then cook a minute or so more.
Serve immediately topped with whipped butter& syrup.