Peanut Butter Chicken Skewers
HisPixie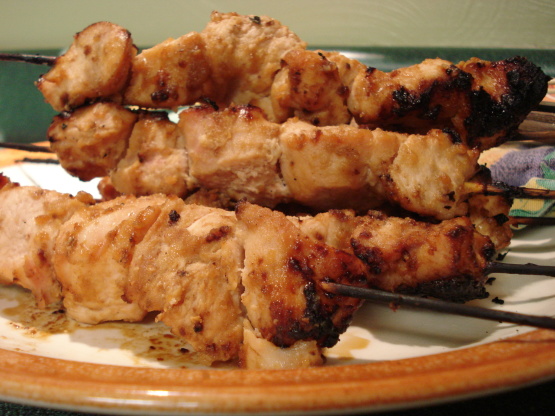 Tried this recipe several years ago and fell in love with it. One of those great summer grilling recipes. Hope you enjoy.

Top Review by JillAZ
Wonderful flavor! I ended up baking these in the oven as my grill was out of propane. They were very tasty! Will definately make again. I prepared this as a OAMC recipe and froze the chicken strips in the sauce. Then thawed in the fridge and baked instead of grilling. It took about 20-25 minutes at 400 degrees. Thanks for sharing!
Soak skewers in water for at least 1 hour.
Meanwhile, combine the next nine ingredients in a blender or food processor until smooth.
Pour mixture into a large plastic resealable bag.
Cut chicken into 1-inch strips; add to bag.
Close bag and refrigerate for at least 2 hours.
Trim tops off onions and cut in half.
Thread one piece of onion on each skewer.
Drain chicken, discard marinade.
Thread 2-3 pieces of chicken on each skewer and end with onion.
Grill, uncovered, turn every 3-5 minutes for 15-20 minutes.