Laeana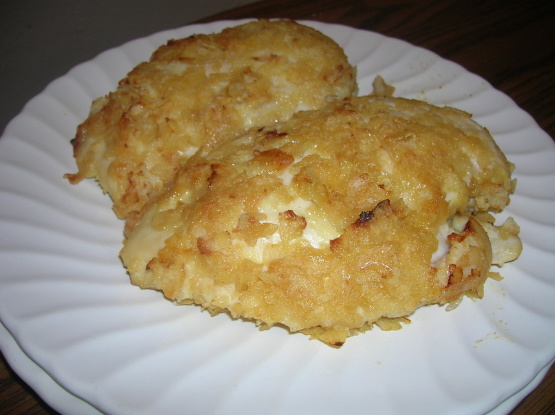 When I got this recipe from a friend of mine I was a little skeptical. But once you get past the name it is absolutely wonderful. I usually double the recipe because it is a *huge* hit with my husband and kids.

This tastes wonderful and it is so easy to make! It's become a regular in my kitchen, especially since I tend to have all the ingredients around. Instead of using crumbled chips, I use Panko bread crumbs. I also vary the amount of each ingredient depending on what I feel like-- I usually add more peanut butter and mustard than it calls for, and a little less honey.
Preheat oven to 400 degrees.
In a shallow mixing bowl, mix together mustard, peanut butter, honey and mayo.
Dip each chicken breast into mayo mixture, then coat in crushed potato chips. Place on cookie sheet sprayed with non-stick cooking spray.
Bake at 400 degrees for 10 minutes on each side.