Peanut Butter Cheese Fudge
Lainey39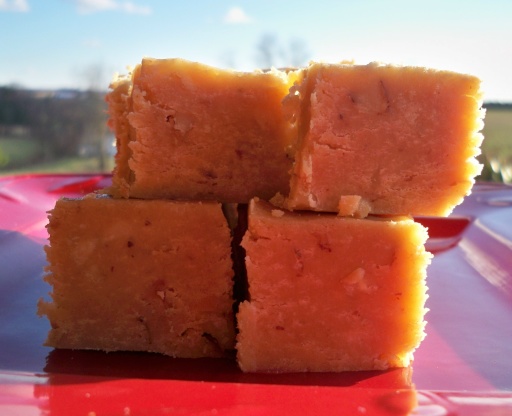 All the credit on this recipe goes to GA's own, Ms. Paula Deen -- thanks Paula, this is so quick, easy, & deelicious y'all!

I have two rules for fudge. It has to taste good and I have to be able to cut it without having it crumble. This tastes fine but it did not cut well.
Lightly spray the bottom of a 9 by 2-inch square pan with nonstick cooking spray. In a saucepan over medium heat, melt cheese and butter together, then add peanut butter and stir until smooth. Remove from heat and add vanilla and nuts.
Empty confectioners' sugar into a large bowl and pour cheese mixture over sugar. Stir until completely mixed. Candy will be very stiff.
Using your hands, remove candy from the bowl and press evenly and firmly into the pan. Because of the amount of butter in this recipe, pat top of candy with a paper towel to remove excess oil. Place the pan in refrigerator until candy is firm.
To serve, cut into squares.