ChefLee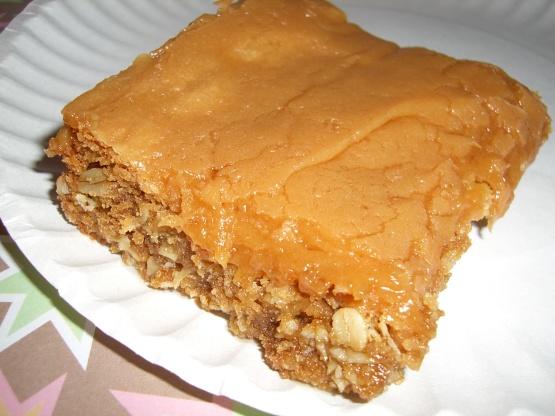 Oh, these were wonderful! I made these for work yesterday, and everyone loved them. I doubled the recipe because a 9-inch pan of anything just isn't big enough if I'm bringing treats to work. The only real change I made was to add half a bag of semisweet chips to the batter (personal preference - I don't care for peanut butter without chocolate or jam, even in cookies and such). I wasn't sure how they were going to bake up because the batter was so thick, but they came out beautifully. Nice, thick, and chewy. The frosting layer was a bit thick when doubled (no complaints from me, but some people don't like a lot of frosting); maybe a 1.5 frosting increase for a double batch would be better. At any rate, very good, nice change of pace from the usual brownies and bar cookies. ADDITION: These bars keep well, too. I found this out because a girl in the office had taken a few and squirreled them away in a container at her desk when I made them about a week or so ago. Well, she forgot they were there, but we were starving and didn't have time to go and get food. We ended up eating the peanut butter bars, and they were still great (yes, I was a little skeptical because they were about a week old, but we were desperate). They didn't taste stale at all, which was a great bonus (since we probably would have eaten them anyway)!
Cream margarine and sugars.
Add egg.
Mix well.
Add peanut butter and vanilla.
Mix well.
Stir in oatmeal, flour, baking soda, and salt.
Stir until well combined.
Put batter in a greased 9" X 9" square pan.
Bake in a preheated 350°F oven for 25-30 minutes, or until done.
Combine icing ingredients.
Blend well.
Spread on brownies while they are still warm.
Cool.